How to Make Your Mark
In college, it can seem as though everyone is jockeying for position — in the professors' eyes, within the student body and in the minds of prospective employers. So, how can you stand out from your fellow students and make your mark? Challenge yourself by taking on a leadership role — in and out of the classroom.
Become a resident advisor (RA). Make a difference in your dormitory or residence hall. You'll build conflict-resolution skills, learn teamwork, develop a sense of community and become a helpful resource for others.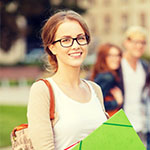 Run for office. Learn important leadership and mediation skills while representing others. The leadership role you assume can be in student government, in a "Greek" house, in a social or cultural club or in any organization you're a part of. Even if you're not the outgoing type, it's a great chance to see how things get done.
Get involved in sports. Be a team leader and inspire others. Not particularly athletic? Find a position in the athletic department that can help you develop behind-the-scene organization skills.
Find a mentor. Do research with a professor or work with a campus leader to enhance your knowledge and skills. You'll not only learn new things from experienced people — you'll also be top-of-mind when they're looking for somebody responsible to handle a project.
Help organize a community service project. Is there a cause that you're passionate about? Get involved and inspire others to get involved too. Even if you don't have a lot of time to volunteer on a regular basis, you can help effect positive change on campus or in your community.
Once you've determined the leadership role you want to take, it's important to work on developing the qualities that make a successful leader. Qualities like assertiveness, adaptability and authenticity will help you achieve your goals. Being enthusiastic, energetic and empathetic will help you reach your full potential — and enable the people you're involved with to reach theirs as well.