Helping Others Can Help You Too
As a member of a credit union, you may be aware of its social mission: people helping people. Credit unions are not-for-profit financial cooperatives that exist to serve their members in bad times as well as good. This people-first philosophy has the effect of motivating credit union employees to get involved in community charitable activities and worthwhile causes.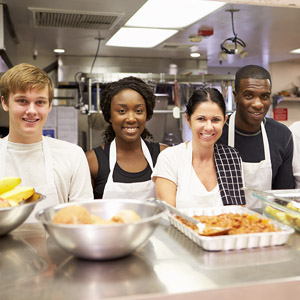 As a college student, gaining knowledge and new experiences, you have a unique opportunity to make an impact on your community and the world at large. By spending just a couple of hours each week volunteering for a cause that means something to you, you can help effect positive change.
Volunteering lets you make a real difference to organizations in need. Even helping out with small tasks can better the lives of others. The environment and local communities can also benefit from your good works. It's actually a two-way street: devoting time to volunteering can benefit you as well.
There are a number of ways volunteering can enrich your life. It can expand your network and help you make new friends and contacts. Volunteering helps fight the social isolation that can contribute to depression. In fact, researchers at the London School of Economics studied the relationship between volunteering and measures of happiness in a large group of American adults and found that the more people volunteered, the happier they were.
Looking for career experience? Volunteering enables you to gain experience in a field without making a long-term commitment. For example, while devoting time at a homeless shelter, you could become an experienced counselor or a knowledgeable historian while volunteering as a tour guide for a local historical organization.
To get started as a volunteer, consider your goals. Do you want to make your community better? See a different way of life? Learn new skills? "Try out" the type of work you think you'd like to pursue? Spend your spare time more productively?
You can also ask yourself what causes are important to you and how much responsibility you're ready to take on. Then, explore the wide variety of volunteer opportunities open to you. Consider hospitals, animal shelters, libraries, parks, museums, schools, sports teams and community service organizations. Once you find the right fit, take care to devote the amount of time that will make the experience fun and rewarding, and not feel like a chore on your to-do list.